Requirements
To exit with a Postgraduate Diploma, international students must firstly confirm with the Exams office that there is a full-time post graduate award for their programme and the student must confirm that the post graduate diploma is listed on ILEP. If yes to both, students must also meet the following criteria to request to exit:
Achieve the required credits
Pass the required modules
Be registered for a minimum of 1 year - note there is no opportunity for international students to exit early from their programme.
Students can confirm the required credits and modules for the Post Graduate Diploma by referring to the programme information on the NCI website. If no Post Graduate Diploma exists, please contact the Exams Office via the NCI Support Hub
How and when to apply to exit?
Students can only apply to exit within 7 days of exam results being published in February, June or October. These are the only times students can request to exit, no exceptions can be made. Students must complete the Award Exit / Transfer Form and submit it within the deadline.
When is the exit processed?
Students who are eligible to exit will be processed during the timelines below. Individual requests to be processed earlier than outlined cannot be accepted. Once the exit request has been processed, students will be contacted by the Exams Office with a copy of their Transcript and Confirmation of Exit Letter.
Please ensure that your address in Ireland is up to date. Students can update the home & mailing address on their record using the system MyDetails login.
When can I apply for the 1G Visa?
International Students can only apply for the 1G visa after the exit with the Post Graduate Diploma is approved by the Exams Office – see timeline below.
Important Note: International Students must meet the eligibility to apply for the Third Level Graduate Scheme and the programme must be listed in ILEP. The Post Graduate Diploma is a level 9 award, so graduates may be eligible to apply for the third level graduate scheme for up to two years.
Please see How do I apply for the 1G Visa?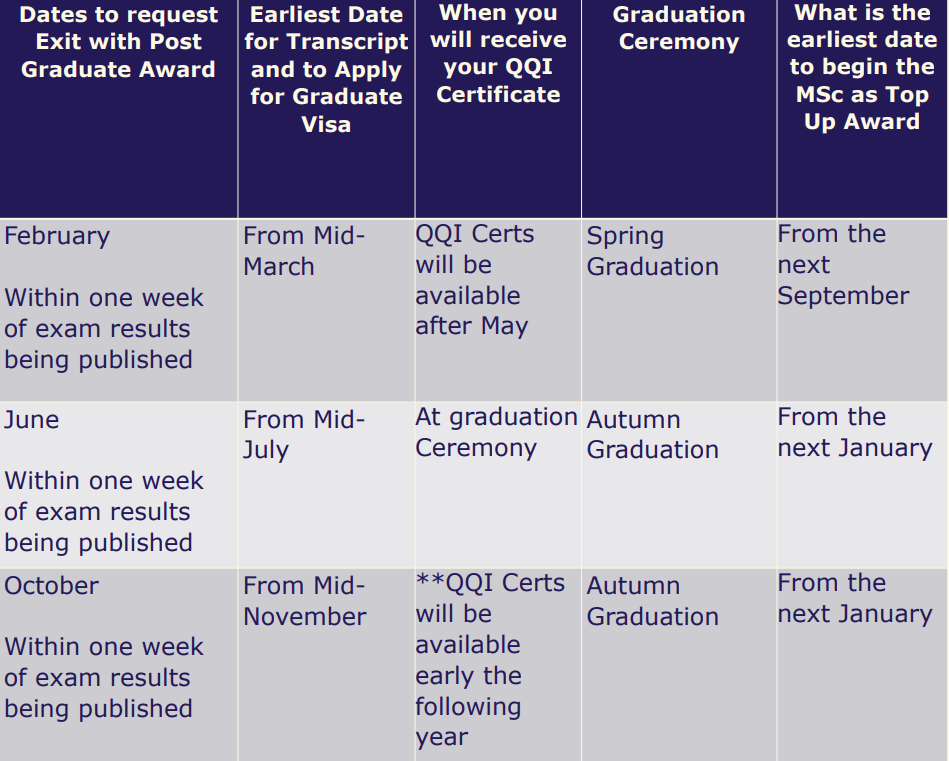 Suggested Article - How do I apply for the Masters Top-up?